Serie Lobster Boat
ORTAC 1050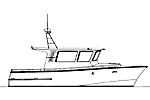 Ortac 1050
profile
This new product in the lobsterboat range is the final outcome of a long process.
It is the version meant for family holiday, fishing, cruising, crossings (corsica-continent or transchannel) and adapted from a lobster boat built in a south brittany ship yard in 1998.
Its hull is therefore well known, such as its remarkable seaworthiness:
The boat can sail at 17 knots in a choppy sea (5 ft) without slamming ­ thanks to a tulip-shaped bow and a deep V hull which allow a very easy slackening of the pitching, and thanks to the negative angled chines, the lateral stability is assured as soon as the hull is overspeeding.
Equipped with a fuel saving motorization with a single propeller shaft or with a double motorization to reach higher speeds, the boat as an autonomy of 300 to 350 nm which allows a return voyage continent-corsica, thanks to a 1000 liters fuel tank.
Simply equipped with accomodation for 4 people (2 berths forward and a convertible bench), a kitchen, a bathroom and a large cockpit of about 9 m2, the length being adjustable (the other dimensions and dispositions being identical) between 10,20m and 12m.
Note that the inverted windows of the wheelhouse are not been to be stylish, but to avoid the reflection of the sunbeans inside the wheelhouse and thus permit to read the instruments.
Main dimensions:
| | |
| --- | --- |
| Length overall | 34'5'' |
| Length on waterline | 30'6'' |
| Maximum beam | 11'2'' |
| Beam on waterline | 10'10'' |
| Maximum draft | 4'9'' |
| Weight (empty) | 16.214 lbs |
| Maximum weight | 20.570 lbs |
| Berths | 4 |
Engine:
1 x 300 hp or 2 x 165 hp
Maximum speed: 15 to 25 depending on installed shaft power
Gas oil capacity: 265 gallons